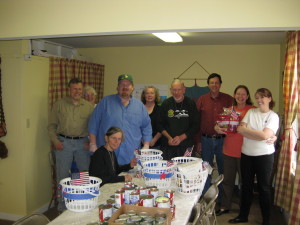 Missions and outreach is an important dimension of community life at St. Andrew's.
In the past, we have created several mission projects including several Thank-You Basket projects.   Through these baskets,  we have thanked veterans for their service to our nation,  foster parents for their service to children in our community, and jailers of Green County for their difficult job in meeting and dealing with individuals experiencing real difficulty in their lives.   Volunteers who reach out to victims of sexual abuse in the SARP program were the most-recent recipients of our Thank-You basket mission.

Our Missions Committee was the place where the Loaves and Fishes Community Meal was born.   We wrote proposals and received grant money to explore the concept of a community meal and then used subsequent grants from The Episcopal Diocese of Milwaukee to establish this program in greater Green County.
Are you interested in helping us envision the future of our missions program?  We are ready to dream up new mission ideas for 2015 when our Missions Committee meets in March and April.   One idea is to reach out to our companion diocese in Africa–the new Episcopal Diocese of Newala in Tanzania whose Bishop visited our Diocese of Milwaukee here in Wisconsin in October of 2014   If you would like more information about Newala, please see our Links page.